Vodafone job cuts in Adderbury 'will leave jobs gap'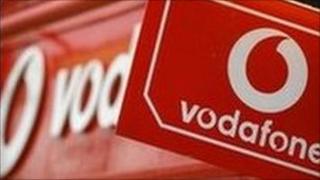 Business leaders have warned that north Oxfordshire cannot absorb an additional 400 workers if phone giant Vodafone closes its Adderbury call centre.
The firm, which has its headquarters in Newbury, Berkshire, plans to close its Banbury Business Park office in 2011.
Clair Kingsbury, chair of Banbury Chamber of Commerce, said it would take time for the local market to accommodate so many jobseekers.
Vodafone said workers could apply to be relocated, but might not want to move.
Two hundred of the posts will move to other Vodafone sites at Newark in Nottinghamshire, Stoke-on-Trent in Staffordshire and Didsbury, Manchester.
Ms Kingsbury said: "It is going to have a big impact on the jobs market and the local economy.
'Added pressure'
"If only there were more large employers coming to Banbury to take those extra people."
Neil Singh, of the Communication Workers Union, said: "They are looking at redeployment and I am hoping that is a genuine offer of redeployment.
"It's not a good time for losing a job so I think, when people are considering relocation, there is some added pressure there because of the job situation."
A company spokeswoman said the Banbury centre had a lot of small teams carrying out different tasks, but that Vodafone wanted "bigger, more specialist teams".
One employee, called Meg, said the workers were told of the plans at 1400 GMT on Tuesday.
She told the BBC: "Everybody's really gutted. There were so many tears yesterday."
Matthew Brearley, Vodafone UK HR director, told the BBC: "Our other contact centres are in other places like Stoke and Newark and Didsbury and for that reason it is a very big decision for those people as to whether they move.
"But we will of course be offering those opportunities and we will be supporting people as much as we can."
Vodafone is the world's largest mobile operator by revenue.
In July it said its quarterly service revenues had risen for the first time since the global recession hit.