St Anne's College 1960s gatehouse to be demolished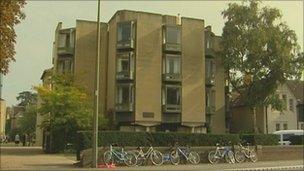 Controversial plans to demolish a 1960s gatehouse at St Anne's College in Oxford have been approved.
Heritage groups had applied to get Founders' Gatehouse listed because they said it was architecturally important.
Oxford University now plans to press ahead with a £10m redevelopment of the campus.
A new library and learning centre will be built on the site in Woodstock Road. Tim Gardam, principal at St Anne's College, welcomed the decision.
The gatehouse was opened in 1966, and houses 21 study-bedrooms.
It was also, until 2005, the home of the college lodge, and still holds the pigeon-holes for all undergraduates, tutors and staff.
Related Internet Links
The BBC is not responsible for the content of external sites.