Cherwell District Council 'cannot do free flood work'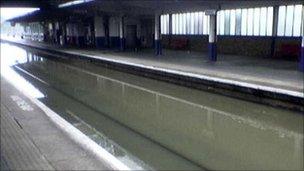 A council in Oxfordshire has rejected a request to carry out flood prevention work for free, after a change in government funding.
A review after UK-wide flooding in 2007 recommended that county rather than district councils should plan defences.
The county council now receives central funds, but wants its five districts to continue their work for free.
Cherwell District Council, says that without any cash, it is unable to carry out flood prevention work.
The county council says it has spent more than £3m on flood work since 2007 and is now being asked to do more with less.
Until now, district councils in Oxfordshire monitored culverts and streams and looked after local drains.
In the future, the responsibility will be shouldered by the county council, which still wants the districts to keep providing their expertise, but without funding.
Councillor Michael Gibbard, of Cherwell District Council, said: "It is up to us, in partnership, to help the county council take on this responsibility, to give them the benefit of the knowledge we have built up over the years, but unfortunately cannot continue without funding."
Flood Forum, a charity that supports flood victims, says local authorities should be "pro-active" in managing floods.
Spokeswoman Mary Dhnoau said: "At the end of the day flood risk management has always been the poor relation, and so they're going to be reactive.
"Flood victims will be left bailing out the floodwater yet again."
Related Internet Links
The BBC is not responsible for the content of external sites.