Oxford hosts football tournament for homeless people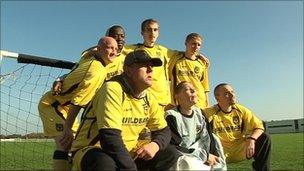 Oxford has hosted what is thought to be Britain's first football tournament for the homeless and people with mental health problems.
Thirty-two teams from across England and Wales took part in the Social Inclusion Cup on Monday.
Among them were past and present residents of Lucy Faithfull House - a hostel based in Oxford city centre.
Tournament organiser Jon Regler said "football helps people tackle other problems in life".
The project worker told BBC News: "It teaches them a lot of social and teams skills.
"Football [also] gives them a focus and a purpose sometimes to actually get up in the morning."
Lucy Faithfull House team member John McMillan has been living at the hostel for six months.
He said: "[Football] gives you confidence, it gives you something to do, [and] keeps you physically fit.
"If I were not playing football, I would probably be sitting at home getting drunk, to be honest.
"Hopefully, if I can stick at this properly I can go into a bit of coaching and [then] go on from there."
Related Internet Links
The BBC is not responsible for the content of external sites.