Spending Review: Couple's fear for disabled son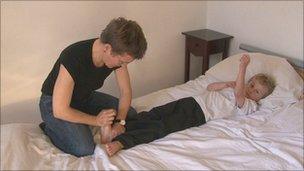 An Oxfordshire couple say they are worried they could lose part of their disabled son's care package as part of the forthcoming Spending Review cuts.
Kathy Wedell and Stuart White rely on a number of local services after their son, Isaac, was diagnosed with muscular dystrophy two years ago.
Social care is expected to be affected if Oxfordshire County Council has to cut its budget by a third.
The NHS and council say the most vulnerable will get the care they need.
But it also said people's care packages may have to change, and exactly how will depend on the government's spending priorities.
There is no suggestion that Isaac will lose all the support he needs, but there are questions over what level of care he may get in future.
His family is part of Save Our Services - a local group campaigning against all public sector cuts.
Ms Wedell, said: "A good, quality, co-ordinated, service means the difference between a life expectancy of 30 plus, and a life expectancy of Isaac dying in his teens.
"That's the stark reality."
Mr White, added: "I'm concerned that the services that he gets are retained, and are at the right quality.
"But I would hate for his services to be retained at the expense of somebody else losing services that they need just as much."
The Coalition government reveals its Spending Review results on 20 October.
Related Internet Links
The BBC is not responsible for the content of external sites.