Huntercombe youth jail becomes adult prison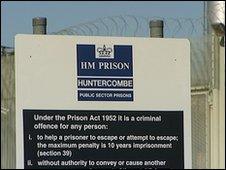 A former young offenders institution in Oxfordshire has become a prison for up to 370 adults.
Huntercombe Prison, between Wallingford and Henley-on-Thames, had been housing 15 to 18-year-old males since 2000.
Because of a drop in the number of younger people being imprisoned it was decommissioned and has now reopened as a Category C prison for adults.
The National Offender Management Service (NOMS) closed Huntercombe in June and boosted security.
Governor Nigel Atkinson said: "Category C means prisoners are required to be within closed conditions, but the security doesn't have to be to the same extent as it would be with somebody classed as a category A prisoner.
"There's been some minor changes. We're putting in an extra fence around the perimeter and there are minor changes in terms of locking provision, but broadly speaking the establishment will stay exactly as it is."
Huntercombe opened in 1946 after the site was used as an internment camp.
Related Internet Links
The BBC is not responsible for the content of external sites.