East Oxford archaeology explored in three-year project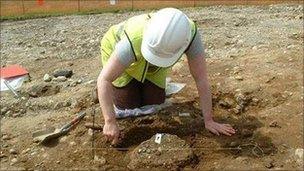 Residents in East Oxford will be able to discover more about the history of the area by taking part in a community archaeology project.
The three-year scheme is a collaboration between the University of Oxford, local schools and volunteers.
It is funded by a £330,700 grant from the Heritage Lottery Fund and nearly £50,000 from the university.
Oxford East MP, Andrew Smith, said: "I am really thrilled to see this very exciting project come to fruition."
Mr Smith said he hoped that the project would "awaken new interest in all aspects of Oxford's past".
The archaeology and history of East Oxford is thought to include Roman settlements, a medieval leper hospital and Civil War siege works dating to the time when Oxford was the Royalist capital.
The public will be invited to take part in investigations of their landscape in a series of archaeological activities including test digs and geophysics surveys.
Related Internet Links
The BBC is not responsible for the content of external sites.