Defence review: RAF Benson 'secure until 2022'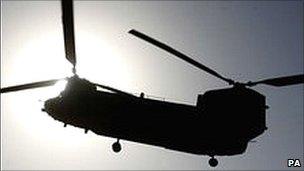 Military base RAF Benson is secure for the next 12 years, the BBC has learned.
The Ministry of Defence (MoD) has told BBC Oxford the RAF base will remain the home of the 28 Merlins and 34 Puma helicopters until 2022.
Staff at Benson, where 2,000 work, were briefed on Tuesday. It also confirms that RAF Brize Norton's operations will not be "adversely affected".
The transfer of staff from RAF Lyneham and upgrades to transport fleets and the tanker at Brize will go ahead.
More than 4,200 personnel are based there, along with 600 civilians.
However, uncertainty prevails over whether Chinook helicopters from RAF Odiham in Hampshire will arrive at RAF Benson.
The move was announced by the previous government last year.
Meanwhile, the Strategic Defence and Security Review has said the defence cuts will have a "significant impact" on the need for military bases in the UK but no final decisions have been taken about which will face the axe.
About 1,700 soldiers are based at Dalton Barracks at Abingdon - and at least 600 at Bicester.
The news comes after it was revealed Portsmouth-based aircraft carrier the Ark Royal, the Royal Navy's flagship, is to be scrapped early as part of the government's defence review.
Related Internet Links
The BBC is not responsible for the content of external sites.