Spending Review: Oxfordshire council leader optimistic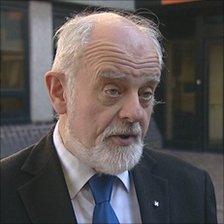 The leader of Oxfordshire County Council has said the area is in a strong position to cope with the cuts.
Chancellor George Osborne said in the Spending Review that local authority funding would be cut by 28.4% by 2015.
Keith Mitchell said job cuts were inevitable in the public sector but many employees in the county worked in industries with good prospects.
However Oxon Anti-Cuts Alliance warned schools could still be hit despite their budgets being prioritised.
The Chief Constable of Thames Valley Police also warned a 16% cut in police budgets could lead to "noticeable reductions in service".
Meanwhile, Steve Allen, secretary of the Fire Brigades Union (FBU) in Oxfordshire, said: "The FBU in Oxfordshire is desperately concerned about the level of cuts which might be imposed and effect on us to be able to deliver a quality service to the public.
"We're concerned that in the worst case scenario stations could close and jobs could go."
Mr Osborne revealed councils face an annual 7.1% funding cut but county council leader Mr Mitchell was optimistic.
He said: "It is inevitable, the public sector is going to have to shrink.
"I think my best consolation is that we're working hard to grow the private sector to replace those jobs.
"I think we're well placed in Oxfordshire because we've got a good strong economy. It's science based, it's knowledge based, it's green technology based."
Gawain Little, a primary school teacher and organiser of Wednesday's Oxon Anti-Cuts Alliance protest in Oxford, said: "The chancellor has made a lot of ringfencing the schools' budget.
"However with the cuts to local government spending we're going to see a direct knock-on effect in terms of the support available to classroom teachers and that can't but impact on the way they do their jobs."
Mr Osborne earlier confirmed to the Commons that funding was safe for the Diamond Light Source synchrotron science facility near Didcot.
The facility houses a machine described as a type of "super microscope" and is one of the UK's biggest science facilities.
Mr Osborne said the UK's science budget would be protected at £4.6bn a year, though efficiency savings would have be made.
Related Internet Links
The BBC is not responsible for the content of external sites.