Wantage Silver Band gets lease for new headquarters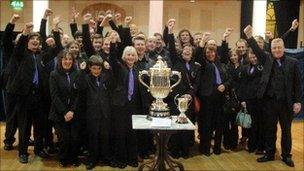 An Oxfordshire brass band is a step nearer to finding a permanent base after signing a lease on a plot of land.
Wantage Silver Band hope to build a new practice room and community centre on land at Tugwell Field.
The band's 160 members have been without a base since their old headquarters were demolished in 2001.
They have been fund-raising for several years to build new facilities and are half-way to their target of £300,000.
The band are leasing the land from the Vale of White Horse District Council.
Construction on the base is expected to start in spring if funding is in place.
Last weekend the Wantage Silver 'A' Band won the Borough of Hove trophy and became Southern Counties Association Champions.
But without a regular base they are forced to hire about 10 different venues each week for practices.
They store percussion in sheds and deliver it to each practice in a large transit van.
Bandmaster Eileen Sykes said: "We look forward to having a permanent home for the band, and providing a useful facility for the community."
The new building is also expected to house a changing area for local football club the Wantage Concords who will play their home games on the Tugwell Field pitch.
District councillor Richard Gibson said: "This is a huge step forward for Wantage Silver Band and the culmination of many months of hard work to achieve legal and planning agreements.
"Wantage is now much closer to seeing this vital community facility become a reality."
Related Internet Links
The BBC is not responsible for the content of external sites.