Newborn kittens dumped in plastic bag in Oxfordshire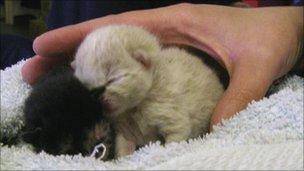 Two newborn kittens have been discovered dumped in a plastic bag in Oxfordshire.
The kittens, whose eyes were not open and still had their umbilical cords attached, were found in Nursery Road, in Kidlington, the RSPCA said.
They were rescued by Stephanie Williams who heard a "rustling sound" coming from a tied-up plastic bag discarded near a fence at 1350 BST on Tuesday.
She took them home and called the RSPCA who are appealing for witnesses.
Ms Williams said: "I was shocked and very upset when I realised that these two tiny kittens had been left in a tied-up bag.
"I am horrified that someone would do this to such tiny defenceless animals."
The kittens, who have been named Mouse and Bean, were taken to the charity's Blackberry Farm Animal Centre in Buckinghamshire, where a member of staff has taken them home in order to provide 24-hour care.
RSPCA Insp Doug Davidson said: "Stephanie did a fantastic job looking after the kittens and undoubtedly saved their lives.
"It is just so depressing to think that a fellow human being could deliberately leave these kittens to die in the cold."
Related Internet Links
The BBC is not responsible for the content of external sites.