Sewage pipe to prevent more leaks at Dry Sandford Pit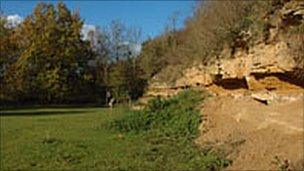 A new sewer has been installed underneath an Oxfordshire nature reserve which has suffered repeated sewage floods and leaks.
Thames Water has spent £800,000 to replace the "creaky old sewer" running for three quarters of a mile (1.2km) under Dry Sandford Pit near Abingdon.
The disused quarry is a Site of Special Scientific Interest (SSSI).
Over the past few years the old pipe has burst several times, flooding the reserve and nearby properties.
Thames Water firm said the new plastic and concrete pipe was less prone to leaks and bursts.
The new pipe runs away from the rare fenland habitat near Dalton Barracks airfield, three miles (4.8km) northwest of Abingdon.
Andrew Popple, Thames Water project manager, said: "Sewer flooding at people's homes is a truly miserable experience and getting rid of it is our top priority. Our new sewer pipe will help prevent this."
Martyn Lane, senior Oxfordshire reserves manager for the Berkshire, Buckinghamshire and Oxfordshire Wildlife Trust (BBOWT), said: "Dry Sandford Pit is a BBOWT nature reserve of national importance.
"This is a fragile and rare fenland habitat supporting species such as the southern damselfly and marsh fragrant orchid and hundreds of marsh helleborine, all of which depend on excellent water quality."
Related Internet Links
The BBC is not responsible for the content of external sites.