Cherwell District Council publishes its spending online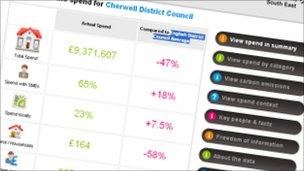 Residents in north Oxfordshire can now see exactly what their council is spending by visiting its website.
Cherwell District Council has published everything over £500 in line with the government's transparency plans.
The website shows chief executive Mary Harpley will have received £138,056 this financial year.
The highest paid councillor is the leader of the Conservative Group Barry Wood who is paid £17,655.
As well as its own website, the council is also using the services of spotlightonspend which enables visitors to make easy council comparisons.
It is possible to see that Cherwell District Council's total spend is £9,371,607 which is 47% less than the English district council average.
A spokesman for Cherwell District Council said its lower than average spend is a result of "constant focus on costs and reducing expenditure".
James Macnamara, portfolio holder for resources and communications, said: "Publishing the information in this easy-to-access format demonstrates Cherwell's focus on openness and value for money."
Related Internet Links
The BBC is not responsible for the content of external sites.