Oxfordshire MP in plea to block Ardley incinerator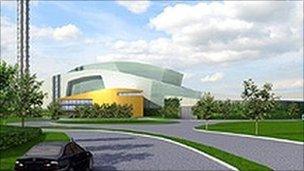 An MP has called on the government to review a decision to build a waste-burning incinerator in Oxfordshire.
County councillors backed the plans for the site near the M40 at Ardley on Monday despite protests and after the first bid was rejected last year.
Members gave permission for the plant to be at the site for 35 years with the countryside restored after that period.
But Banbury MP Tony Baldry has written to the government asking for the decision to be "called in".
Waste firm Viridor challenged the refusal last year and a public inquiry was held with the planning inspector due to make a decision in January next year.
In the meantime the second application was submitted which has now won approval.
Mr Baldry raised his concerns in a letter to Eric Pickles, secretary of state for the Department for Communities and Local Government.
He said: "I think it is very difficult on any commonsense approach to consider a building that is estimated to last for at least 35 years as being 'temporary'.
"I would imagine that any constituents of mine who sought to put up buildings... without planning permission but on the basis that they were 'temporary structures' for 35 years, would receive very short shrift from planners."
He also raised fears that the plant would need to burn more residual waste than Oxfordshire actually had meaning rubbish would be "imported" from elsewhere.
Viridor believes it can turn 300,000 tonnes of waste into electricity every year.
The firm said construction could start as early as next April with the first waste being burnt in 2014.
But campaigners said the fight was far from over with protesters looking into legal challenges.
Related Internet Links
The BBC is not responsible for the content of external sites.