Oxford street protest over government budget cuts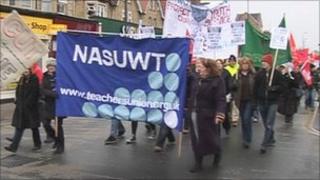 Protesters took to the streets of Oxford on Saturday demonstrating against proposed government cuts.
The Anti-Cuts Alliance campaigners said the proposals would have a devastating effect on the local economy.
It comes as Oxfordshire County Council said it plans to axe funding for half of its libraries as it tries to save between £155m and £230m by 2015.
The Conservative-run council said it had to act over government plans to cut local authority funding by 28.4%.
Gawain Little, protest organiser, said about 500 demonstrators, including union members, public sector workers and community groups, were out on Saturday.
He added: "This effects so many people, anyone who uses public services, anyone who works in public services and will have an impact on our economy for generations."
'Big Society'
David Ricketts, youth worker, said: "All we are trying to do is work with the most vulnerable people in Oxfordshire and do a good service for them."
The county council has also said 20 out of its 33 youth services could be axed under budget cuts.
A spokesman could not say how many jobs would go as a result of the library and youth service cuts, adding 1,000 job losses before 2015 across the whole council had already been announced.
Leader of the council, councillor Keith Mitchell, said: "We have agonised over these proposals and I am sure we will agonise some more as our budget position changes when more information on exact funding details is received from Whitehall."
He said he hoped volunteers would step in to run the services under Prime Minister David Cameron's "Big Society" plans.
The council says it is already on course to save £35m this year from staff cuts, a pay freeze, management restructuring and cutting costs.