Man faces new trial over 1995 murder of Vikki Thompson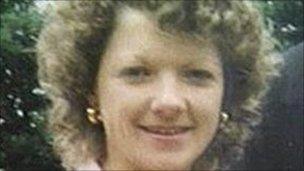 A man originally cleared of murdering a mother of two in 1995 has gone on trial for a second time following the discovery of new DNA evidence.
Mark Weston, 35, is accused of battering Vikki Thompson, 30, and leaving her body next to a railway line in Ascott-under-Wychwood, Oxfordshire.
He first went on trial for her murder in 1996 and was found not guilty, prosecutor John Price QC told the jury.
Mr Weston, who is from the same village and still lives there, denies murder.
Thames Valley Police reopened the case in 2005, on the tenth anniversary of Mrs Thompson's death.
Prosecutors said small amounts of her blood, missed during the initial investigation, were discovered on a pair of Mr Weston's boots.
Mr Price told the trial at Reading Crown Court that Weston chased and killed Mrs Thompson because he realised she had caught him watching her and masturbating as she was walking her dog along a country lane leading away from the village.
He said Mrs Thompson "sustained head injuries of the utmost gravity" after being hit several times "to the back of the head with a heavy blunt object".
Mrs Thompson lived with her husband Jonathan and two young children in the small village.
Her husband first knew something was wrong when their collie dog Daisy returned home alone following the walk on the afternoon of 12 August 1995.
The court heard that a farmer and three local residents remembered hearing screams a few minutes after that, lasting up to 45 seconds and coming from where her body was found.
Mr Thompson went looking for her with his children and neighbours and a few hours later she was found by a local couple, still alive lying on a collection of rocks on a railway embankment.
Mr Price said: "There was a lot of blood. She moved, and in the minutes that followed, her husband having arrived at the scene and before Mrs Thompson could be taken away by air ambulance, she was able to speak, though not in any coherent fashion.
"She was not able to say what had happened to her, nor was she able to say who was responsible."
She was taken to the John Radcliffe Hospital in Oxford suffering skull fractures and a severe brain injury.
Six days later her brain stopped functioning and her life support machine was switched off.
Mr Price said it appeared that after the attack Mr Weston had lifted her over a fence and dragged her across a field by her arms before dumping her.
He said he may have done this to make it appear she had been struck by a passing train.
Related Internet Links
The BBC is not responsible for the content of external sites.