Accused man denies killing Vikki Thompson in Oxfordshire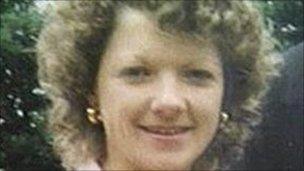 A man on trial for murder for the second time has told a jury he did not kill a mother-of-two in 1995.
Mark Weston, 35, is accused of battering Vikki Thompson, 30, and leaving her body next to a railway line in Ascott-under-Wychwood, Oxfordshire.
On the day of the attack he said he went fishing in the morning and worked in his parents' garden later that day.
Mr Weston was originally cleared in 1996 but is on trial again following the discovery of new DNA evidence.
Thames Valley Police reopened the case in 2005, on the 10th anniversary of Mrs Thompson's death.
Prosecutors said small amounts of her blood, missed during the initial investigation, were discovered on a pair of Mr Weston's boots.
Mr Weston is alleged to have chased and killed Mrs Thompson because he realised she had caught him masturbating while watching her as she walked her dog.
When asked to recall more specifically where he was and what he was wearing on the day of Mrs Thompson's murder he repeatedly told the court that the events were a long time ago and he could not recall them clearly.
When he was asked "Did you murder Vikki Thompson", he replied: "No, I didn't".
He added that he did not harm her in any way.
Mrs Thompson lived with her husband Jonathan and two young children in the small village.
Her husband first knew something was wrong when their collie dog Daisy returned home alone following the walk on the afternoon of 12 August 1995.
Mr Thompson went looking for her with his children and neighbours and a few hours later she was found by a local couple, still alive, and lying on rocks on a railway embankment.
She was taken to the John Radcliffe Hospital in Oxford with skull fractures and a brain injury.
Six days later her brain stopped functioning and her life support machine was switched off.
Mr Weston denies murder. The trial continues.
Related Internet Links
The BBC is not responsible for the content of external sites.