Oxfordshire mother left cold after oil theft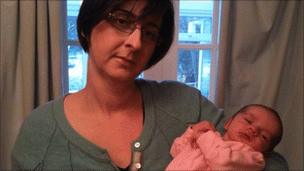 A new mother returned from hospital to find she had no heating after thieves stole her family's oil supply.
As Sarah Holford, 38, from North Newington was giving birth to daughter Lucie, her oil tank was drilled into and the contents siphoned off.
Mrs Holford said: "I was a little bit poorly in the hospital so it was quite stressful to think of coming out to no heating with the baby."
So much oil leaked into the garden the family had to move into a hotel.
Her parents took her other two children Eloise, aged six, and Rebecca, three, out of school to live with them while Mrs Holford and her husband Simon stayed to clear up the contamination.
The family are now back together but they have diggers in the garden removing the polluted soil to make sure none of the kerosene gets into the drainage system or foundations.
Mrs Holford, who works as an accountant for various charities, said it had been difficult to get replacement oil.
Related Internet Links
The BBC is not responsible for the content of external sites.