Oxfordshire councils advise party-goers on safe taxis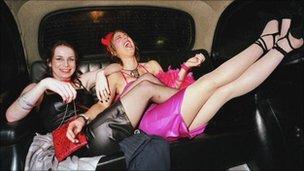 Party-goers in Oxfordshire are being encouraged to use accredited taxis when going out over the Christmas period.
The message comes from the Vale of White Horse and South Oxfordshire district councils who want people to use authorised vehicles.
Vale Liberal Democrat councillor Jerry Patterson said: "If the driver cannot produce a valid badge, don't get in as we may not have vetted them."
He said the insurance of unregistered vehicle's would be invalid.
South Oxfordshire Conservative councillor Jane Murphy said: "Our message is to have fun, but think ahead and remember to be careful when planning your journey home.
"Always use a reliable firm and pre-book your taxi in advance. As well as checking the driver has a valid badge, check it has a valid plate on the rear with the council's logo."
You can check online to see if the firm you are booking has a licence.
Related Internet Links
The BBC is not responsible for the content of external sites.