Oxfordshire and Northamptonshire councils' part-merger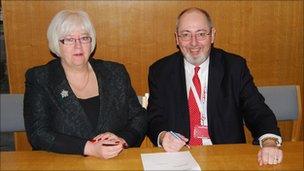 South Northamptonshire and Cherwell District Councils have agreed to merge their senior management teams.
There are likely to be 15 redundancies from existing senior managers, but the councils said the move would save more than £5m between them over five years.
The new structure will see one chief executive, three directors, eight heads of service and three senior managers shared between the authorities.
A new chief executive is expected to be appointed in February.
The other senior roles should be filled towards the end of next year.
The councils stressed that the move did not mean a full merger. South Northamptonshire's 42 elected members and Cherwell's 50 elected members will continue to represent their respective wards and districts.
Councillor Mary Clarke, leader of South Northamptonshire Council, said: "We are committed to providing excellent services to our residents and, during an era of severe budget constraints, we believe that this approach is the right way to reduce our costs whilst continuing to focus on service delivery."
Leader of Cherwell District Council, Councillor Barry Wood, said: "We are confident that the decision to forge ahead with plans to form a shared management team is the correct one and one that will enable us to begin to address the financial situation we currently face."
Related Internet Links
The BBC is not responsible for the content of external sites.