M40 Oxford Tube coach crash investigation continues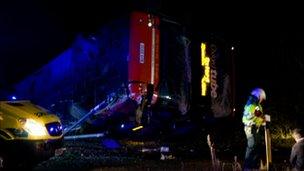 An investigation is continuing after a coach overturned on the M40 in Oxfordshire, injuring 17 people.
A total of 33 passengers were on the Oxford Tube vehicle when it crashed on Saturday night at the northbound exit of junction seven, near Thame.
Seventeen people were taken to the John Radcliffe Hospital and four of those, who were admitted for surgery, were continuing to receive treatment.
Thames Valley Police said it was still investigating the cause of the crash.
The double-decker coach had been travelling from London to Oxford when it left the road, crashed through a barrier and rolled on its side down an embankment.
Passenger Brother Lawrence Lew, who was sitting on the top deck of the bus, said he felt "very blessed" to be alive as the window he was next to did not smash.
The Dominican Friar, based at Blackfriars, Oxford, told the BBC some passengers were crying and calling for help when the vehicle left the road.
"The bus was going very quickly indeed and I did think for a split second, I wondered if this bus is going to be toppled because of the angle we were going at," he said.
"Just after I thought that, before you knew it, the unimaginable happened.
"I just picked myself up, realised I was standing on the window and then tried to get myself off."
No other vehicles were involved in the M40 incident, Thames Valley Police said.
A police spokesman said officers were investigating whether the coach took a different exit off the motorway as the Oxford Tube normally leaves at junction eight.
One person was thrown clear of the Stagecoach-owned vehicle. Another had to be freed from the wreckage.
Some people with minor injuries were treated at the scene. The driver of the coach was among those taken to hospital.
A spokesman for Oxford Tube said the coach was understood to have gone through a barrier and ended up on its side.
"We will be carrying out our own internal investigation and assisting the police in any way that we can with their inquiries into the accident," he added.
Related Internet Links
The BBC is not responsible for the content of external sites.