Ex-partner questioned over murder of woman and her son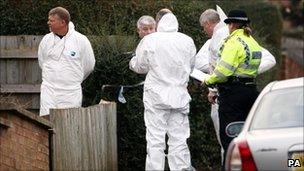 Detectives are continuing to question a man arrested on suspicion of murdering his former partner and her son.
Police found the bodies of the woman, aged in her 40s, and her son, in his 20s, at their home in Banbury, Oxfordshire, early on Monday.
The woman's two daughters fled, one with serious injuries. Police would not confirm reports an axe was used.
A 45-year-old man arrested a few hours later in Swindon, Wiltshire, remains in police custody.
Post-mortem tests have revealed the woman died from multiple head injuries "consistent with a heavy bladed instrument".
Tests on the body of the son are due to take place later.
The bodies, which were found in Mold Crescent, are then due to be formally identified.
The elder of the woman's two daughters, in her late teens, was taken to hospital, while the other, aged 13, was unharmed but "extremely traumatised".
The man was held by armed officers a few hours after the victims' bodies were found.
Neighbours have said they saw a man wielding an axe at the time of the killings.
Det Insp Steve Duffy said that "some kind of weapon" was used during the attack, although it had yet to be recovered.
"As you can appreciate, officers went to the address and were faced with a horrific scene," Mr Duffy said.
"There were two people obviously dead or very close to death at the scene.
"The police traced a suspect to an address in Wiltshire and police went to that address and effected an arrest."
He added there was a "background" to the deaths, which were not the result of a random attack.
Mr Duffy said police had received no previous calls to the address about domestic incidents.
Ten officers remained at the scene of the killings while police were also present at a second house in Mold Crescent, opposite the scene of the attack.
Detectives believe the suspect may have visited the property during the course of the killings.
The family were believed to have lived in the house for a year.
A neighbour, who did not want to be named, said: "All we've heard is there's been a murder and an axe was involved.
"I know the house but I don't know who lives there.
"We can't get up there because the police are blocking it. They've stopped the cars going up and down.
"It's a very quiet street really. I never hear of any trouble."
Related Internet Links
The BBC is not responsible for the content of external sites.