Man charged with murders of ex-partner and her son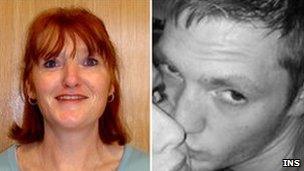 A man has been charged with murdering his former partner and her son at the home they shared.
Sally Cox, 43, and Martin Faulkner, 22, were attacked at the house in Banbury, Oxfordshire, on Monday.
Michael Kelly, 45, of Hatch Road, Swindon, is due to appear before Banbury magistrates on Wednesday.
Mrs Cox's daughter, Amy, 19, remains in hospital. She was injured when she jumped out of a window at the house with her 13-year-old sister Katie.
She is said to be in a serious but stable condition.
In addition to the two murder charges, Mr Kelly also faces one charge of assault.
He was arrested in Swindon a few hours after the bodies were found in Mold Crescent.
A post-mortem examination on Mrs Cox revealed she died of multiple head injuries caused by a "heavy bladed instrument".
The results of post-mortem tests on her son are yet to be released.
Related Internet Links
The BBC is not responsible for the content of external sites.