Wintry weather causes travel chaos in Oxfordshire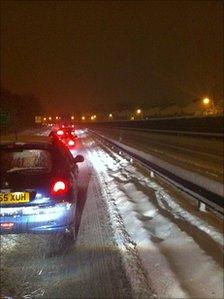 Freezing temperatures and snow are continuing to cause severe travel problems across Oxfordshire.
Drivers faced queues of up to eight hours on the A34 and many people were stuck in their vehicles there overnight after up to 20cm (8in) of snow fell.
More than 80 cars were abandoned on Saturday night and several jack-knifed lorries were blocking the route.
Many train and bus services have been cancelled or disrupted, although some services are running in Oxford.
Police have warned there are hazardous driving conditions on most other roads in the county and urged drivers not to venture out unless absolutely necessary.
People planning to travel by train or bus are advised to check on the operator's website for the latest information as many services have been cancelled or delayed.
Lorry driver Lloyd was stuck all night on the A34 and was still there this morning.
He said: "I hit the back of the queue at seven o'clock last night. I'm about 650 yards away from the roundabout from where the M40 is.
"I've still got the engine running and I'm making cups of tea and it's saying -10 on the thermometer."
Ian Hudspeth, from Oxfordshire County Council, said: "We're concentrating mainly on getting the road open and clear because that means, obviously, that they can drive off.
"It's about trying to get the gritters through and of course the problem has been that the gritters couldn't get through to the front so they couldn't move on."
Some drivers criticised police and the Highways Agency, saying not enough had been done to warn people about the problems or to clear the snow after it fell.
Ch Insp Gill Wootton, of Thames Valley Police roads policing department, said: "This particular snowfall is absolutely unprecedented, probably in most people's living memory, to have such a large amount of snow fall in such a short period of time.
"With the best will in the world - however well prepared the emergency services are - this is unprecedented demand.
"It's really important that people try not to add to the problem by going out.
"Although the snow has stopped the roads are still unsafe due to the freezing weather conditions."
She said the force had been working throughout the night with the Highways Agency in an attempt to get the vehicles moving on the A34.
Drivers have been urged to avoid the A34 at all costs.
Related Internet Links
The BBC is not responsible for the content of external sites.