No change for high speed rail link through Oxfordshire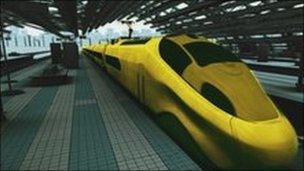 The route of a high speed rail link through east Oxfordshire will not be altered, the government has said.
Transport secretary Philip Hammond told the Commons that 50% of the HS2 route between London and Birmingham had been amended.
The proposed route had already been moved further from Mixbury, Greatworth and Brackley.
The line in that area will also be in a deeper cutting to reduce noise impact to residents.
The £33bn proposals for the 200mph rail link were announced in March.
A consultation on the plans will take place in 2011.
Tania Parsons, who lives in Lower Thorpe Mandeville, near Banbury, said: "I'm in a hamlet of five and its planning to come straight through us, taking out the other four houses.
"It's going at roof level above our house so we'll be there with it about 50m away from our bedroom window if it does come through.
"It's a fantastic community and I'll have that taken away - my friends, my neighbours, my community, the house where I was planning on spending the rest of my life."
Mr Hammond said: "I have asked my officials to prepare a range of options for a scheme to assist those whose properties would not be required for the construction of the railway, but who would nonetheless see a significant diminution of value as a result of the construction of the line."
Related Internet Links
The BBC is not responsible for the content of external sites.