Blenheim Palace roof damaged in fire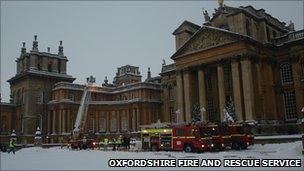 Firefighters have tackled a blaze in the roof of Blenheim Palace.
More than 40 firefighters were called to the 18th Century country house in Woodstock, near Oxford, which sustained minimal damage.
The fire is believed to have started after staff used a flamed torch to heat pipes frozen due to the winter weather, which set a bird's nest alight.
Blenheim Palace, which is home to the Duke and Duchess of Marlborough, was made a World Heritage Site in 1987.
The property is also the birthplace of former prime minister Sir Winston Churchill.
Firefighters managed to access the fire from inside but crews also used an aerial ladder outside the building.
Kerry Blair, from Oxfordshire Fire and Rescue Service, said a pre-planned tactical plan was put in place to locate the fire.
"We have few incidents at the palace but being of international historic value we have a well rehearsed plan.... to ensure we are working together in partnership with the palace so that should an eventuality like this happen we know exactly what we are doing.
"The damage is minimal, there's a small amount of smoke damage to the roof structure but the substantive part of the palace and rooms have been completely unaffected.
"However we did some pre-emptive salvage work just in case."
The palace and gardens, landscaped by Capability Brown, are currently closed to the public.
Related Internet Links
The BBC is not responsible for the content of external sites.