Family tribute to Oxford dog ice rescue woman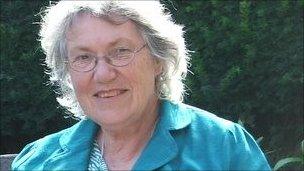 The family of a woman who died of heart failure after falling into the River Cherwell as she tried to rescue her dog have paid tribute to her.
Ann Powles, 74, from Hobson Road, Summertown, Oxford, was reported missing on Tuesday.
Following a search, her body was found with that of her dog on Wednesday.
Her family said she was a big part of the community, raising money for the local church and volunteering her services for other causes.
In a statement, they added: "Our mother was deeply religious and her faith and the church were very important to her.
"[She] adored children and gave them all unconditional love.
"It was the toddler group who raised the alarm when she failed to turn up at her regular session because it was so out of character for her not to be there.
"Our mother was much loved and very important to our family and the community.
"She would never have thought of herself, only rescuing her beloved dog."
Mrs Powles was born in the UK and after leaving school worked for the civil service in London.
She moved to East Africa with her parents where she met her future husband and three of her four children were born.
A widow since 1974, Mrs Powles moved to Oxford in 2003 to be close to her grandchildren.
Jan Rushton, from St Michael and All Angels Church, added: "She did so much for the church and the community, and a lot of he work was carried out behind the scenes.
"She will be very deeply missed by us all."
Related Internet Links
The BBC is not responsible for the content of external sites.