Oxford's Old Fire Station set for homeless centre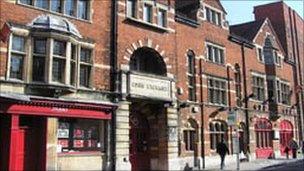 Work to turn a former fire station into a new centre for homeless people in Oxford is set to start.
The city council, which is working with the homeless charity Crisis, has appointed a new contractor to revamp the Old Fire Station building.
The planned Crisis Skylight centre will provide education, training and employment opportunities for homeless and vulnerable people with homes.
Part of the funding for the project has come from central government.
New contractors Kingerlee will start work later this month.
The centre, which could be opened by late 2011, will include an auditorium, galley and retail space, as well as a creative workspace for artists and designers.
Councillor Bob Price, leader of Oxford City Council, said: "I am delighted that we have been able to appoint a well-respected local firm to complete this important project for the city and Crisis.
"I am sure that they will do an excellent job in transforming this historic building into a facility that the homeless and the arts sector will both treasure for years to come."
The Old Fire Station opened as a working fire station in 1896 and remained the main fire station until 1971.
Related Internet Links
The BBC is not responsible for the content of external sites.