Oxford railway bridge work begins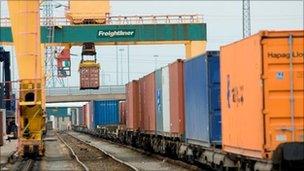 Work has begun to knock down a railway bridge in Oxford and replace it with a new one so the line underneath can transport more freight.
It is part of a £71m scheme to improve the rail line between Southampton port and Nuneaton in Warwickshire, via Reading, Didcot, Oxford and Banbury.
Network Rail said the project should provide a cheaper, quicker and more practical way of transporting goods.
Work was due to get under way while the railway was shut on Christmas Day.
The project is expected to be completed by March 2011 and the road over the bridge is due to remain closed for the majority of that time.
The upgrade of the bridge that carries the Old Abingdon Road over the railway at South Hinksey is needed to allow 9ft 6in (2.9m) containers to travel underneath it.
Network Rail said much of the traffic on the A34 is caused by HGVs transporting goods to and from Southampton port.
"The A34 is one of the most congested roads in the country and much of the traffic is HGVs transporting goods to and from Southampton port," Network Rail said.
"With the cost of road congestion to the British economy estimated at more than £10bn a year, the project will provide vital extra capacity to get freight off the roads and on to the railway."
Related Internet Links
The BBC is not responsible for the content of external sites.