Thousands of Oxford children living in poverty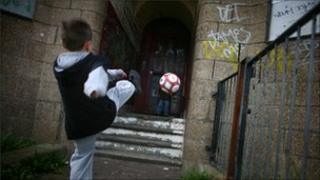 About 5,800 children are estimated to have been living in poverty in Oxford in 2008, new figures have revealed.
That equates to 23% of all children in the city, slightly above the national average of 21%.
Mark Fransham, social research officer at Oxford City Council, which released the figures, said they were "a bit of a wakeup call."
He said while levels of child poverty in Oxford have been stable in recent years, they have dropped nationally.
He said that put Oxford at 79th worst on a list of 354 areas in England.
Someone is deemed to be living in poverty if their household earns less than 60% of the national average.
Poor families
"The average income is about £18,000 a year for a household so that means that the poverty threshold is £210 a week or about £11,000 per year," said Mr Fransham.
Councillor Joe McManners, from the Labour-run city council, said: "It's terrible that in the 21st century in an affluent city like Oxford that we've got such high numbers of kids in poverty."
He said the council was helping to fund the voluntary sector to provide more for children to do, but added he was worried what impact the local authority cuts would have.
"We've had a huge cut to our budget to provide affordable houses so it's going to be very difficult," he said.
Suzy Drohan, manager of the Barton-based Oxfordshire Community Work Agency, said she was concerned about services for poor families.
"A lot of the support they get might start to disappear, not just financial support, day centres, care centres for the elderly, provisions for children any support that you can't put a price on," she said.