Blenheim game fair traffic plans cause concern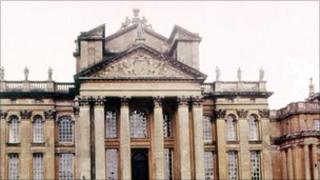 The mayor of Woodstock has called for proof this year's game fair at Blenheim Palace will not cause traffic jams.
Liberal Democrat councillor Julian Cooper said he wanted documentary evidence certified by Thames Valley Police and by the county council.
In 2008, thousands of visitors were forced to endure long delays following a crash on the A34.
But event organiser David Huff said new plans would improve the situation.
The changes include extra car parks and helicopter surveillance.
"When you add them all together they'll make a really big difference," he said.
Peter Jay, mayor of Woodstock when the last Blenheim game fair took place in 2008, branded the traffic problems a "24-carat catastrophe."
He said: "Tens of thousands of people lost a whole day of their lives because the entire highways system of the county of Oxfordshire was grid locked for most of the day.
"They'd better make sure it isn't another catastrophe."
The Country Land and Business Association Game Fair was held in Warwickshire last year and attracted more than 140,000 people.
It features show areas, championships and a range of exhibitor stands.
Blenheim already holds a licence to stage the three-day event in July but it is subject to approval from West Oxfordshire District Council's safety advisory group.
The licensing section at council will receive a presentation from the organisers about the proposed improvements next Friday.