David Hasselhoff addresses Oxford Union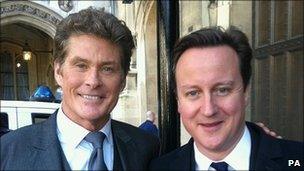 Former Baywatch star David Hasselhoff has revealed he thinks reality shows have "ruined" TV and that David Cameron is a big fan of Knight Rider.
The US star was addressing the Oxford Union about truth and consequences.
He said reports that he took responsibility for the fall of the Berlin Wall were "complete garbage".
He also revealed the prime minster's love of his 1980s series following an earlier chance meeting during a tour of Westminster.
Mr Hasselhoff said: "I go to parliament and I'm having a great time.
"I say, 'I'd really like to meet the prime minister', and as I turned around there is the prime minister.
"He said, 'I'm a big fan of Knight Rider'. I said, 'I'm a big fan of you - are you Tony Blair?'," Mr Hasselhoff jokingly added.
Dressed in a shiny grey suit and tie and carrying a Baywatch-style float, Mr Hasselhoff took to the platform to ringing applause and a standing ovation.
During the 30-minute talk he also discussed his daughter Hayley's battles with weight issues and his own personal problems, but for the most part the talk remained light.
But the new Britain's Got Talent judge and former Dancing With The Stars contestant criticised current TV formats.
"Reality television has ruined television," he said, adding: "It is exploitation of youth."
Asked the secrets of his own youthful appearance by 20-year-old Ilana Lassman, he replied "people like you", before picking up the English student.
After recovering from her encounter, she said: "He didn't smell of aftershave like I expected him to, he smelled normal."
Related Internet Links
The BBC is not responsible for the content of external sites.