Oxfordshire donor gives a kidney to stranger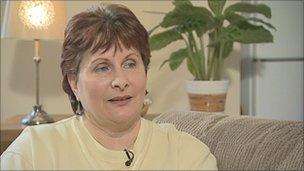 An Oxfordshire woman has become one of only a handful people in the UK to donate a kidney to a stranger.
Di Franks, 58, who lives near Wantage, has become an altruistic donor - meaning she does not know the person whose life she helped to save.
Fewer than 60 people in the UK have become living kidney donors because the procedure was outlawed until 2006.
Ms Franks' operation was the first of its kind at the Churchill Hospital in Oxford.
The only thing she knows about the recipient is that it was a man who had been on dialysis for five years.
She said: "If I had eight more kidneys I'd say take them all - just leave me one. It is the best thing I have ever done."
She added that giving a family a whole new start in life was the best gift she could give.
Professor Peter Friend of Churchill Hospital said Ms Franks could continue to lead a healthy life.
"Undoubtedly the individual will lose some kidney function but there is no evidence to date that [this] has any long term effect on their health," he said.
Nearly 8,000 people in the UK are on the kidney transplant waiting list.
Related Internet Links
The BBC is not responsible for the content of external sites.