Prince Charles comforts Olaf Schmid's mother in visit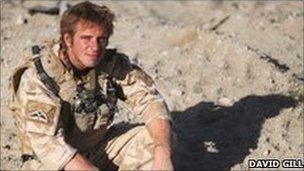 The Prince of Wales gave words of comfort to the mother of Staff Sgt Olaf Schmid in a visit with the Duchess of Cornwall to his Oxfordshire base.
They met Barbara Schmid before observing a minute's silence at Vauxhall Barracks, Didcot.
The royal couple also laid wreaths for fallen members of 11 Explosive Ordnance Disposal Regiment.
Staff Sgt Schmid's inquest ruled he died trying to defuse a device he could not have detected.
The soldier, from Truro in Cornwall, is one of four service personnel the regiment has lost in recent years in Afghanistan.
The 30-year-old was killed when he triggered a new type of pressure plate developed by the Taliban in October 2009, the inquest on Thursday heard.
The regiment has also lost Capt Daniel Read, Capt Daniel Shepherd and Warrant Officer Gary O'Donnell in the Afghanistan conflict.
Part of the Army's Royal Logistic Corps, 11 EOD Regiment, is responsible for counter terrorist bomb disposal.
Prince Charles laid a wreath paying tribute to their "quite extraordinary selfless service and courage" during the visit.
Related Internet Links
The BBC is not responsible for the content of external sites.