Bicester Anglo-Saxon skeletons on display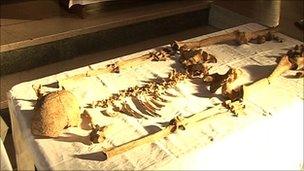 Twelve Anglo-Saxon skeletons discovered in Bicester during the construction of a community centre are now on display.
The remains date from AD700-950 and were unearthed during ground work on the site last year.
The skeletons were exhumed from what is thought to be an old Christian burial ground and taken away for analysis.
Archaeologist Matthew Smith said: "The excavations offer an excellent opportunity to greater understand the people of Bicester in Saxon times."
After scientific work is complete the 12 skeletons will be interred in the memorial garden of the Church of the Immaculate Conception, alongside the community centre, to respect the original burial rites.
The new community building, which is to be named the John Paul II Centre, is being built as part of the NW Bicester eco development.
Related Internet Links
The BBC is not responsible for the content of external sites.