Report shows Southampton hospital patient care errors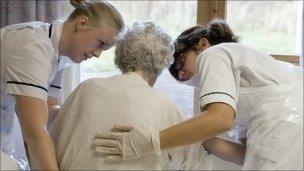 A dementia sufferer who was unable to feed herself was not offered help to eat by staff at a Hampshire hospital, a report into elderly care has revealed.
Her daughter also said her mother, who had mobility problems, was not offered help to have a wash during her 13-week stay at Southampton General Hospital.
The case, along with nine others, was part of a review by the Health Service Ombudsman into care of the elderly.
Southampton University Hospitals NHS Trust claimed it has made improvements.
The report by the Health Service Ombudsman also noted that the patient, who has not been identified, suffered nine falls in hospital but only one was recorded in nursing records.
Judy Gillow, director of nursing at the trust, said: "Many significant improvements have been implemented across the hospital since this complaint was received nearly four years ago.
"These include the introduction of protected mealtimes and a red tray system, which helps identify patients who need help with eating and drinking.
"The refurbishment of our bathrooms means all our wards now have assisted bath or shower facilities."
The official report by the ombudsman said the NHS is failing to treat elderly patients in England with care, dignity and respect.
The ombudsman, which deals with serious complaints against the NHS, said the patients - all aged over 65 - suffered unnecessary pain, neglect and distress.
Charities said the findings were "sickening", while the government admitted improvement was needed.
Related Internet Links
The BBC is not responsible for the content of external sites.