Remembering foot-and-mouth crisis in Oxfordshire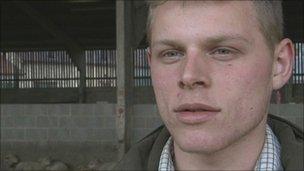 Chris Hawes was 11 years old when foot-and-mouth disease struck his family farm near Bicester in 2001.
The outbreak at Grange Farm in Little Chesterton was the only one recorded in Oxfordshire.
Despite all the horrors he saw, the 21-year-old is now raising a new flock of sheep of his own on the same farm.
"I'll always remember it," he said. "It's one of those things you never forget because the pictures are always in your memory."
Foot-and-mouth disease swept though the UK in February 2001 after it was confirmed at an abattoir in Essex.
Nearly 6.5 million sheep, cattle and pigs were slaughtered to control the disease.
Mr Hawes said: "I remember waking up in the morning. My dad had been out to see the sheep and he'd noticed a few blisters on one of the ewes so he called the ministry vets out and they diagnosed us with foot and mouth."
It was a school day but Mr Hawes insisted on staying home and helping his parents through the crisis.
"I can remember bringing all the sheep in. It was quite a cold morning and we had a few slaughter men in the bull pens.
"It was a few days of constant killing. Many animals came through here and it was gory but it was one of those things that had to be done.
"And then the tractors came in and pushed all the carcasses into one corner of the barn.
"In the field opposite the barn they'd carry the carcasses out and start dumping them after they'd dug a hole.
"They put some hay bales and pallets there and then covered the carcasses with the diesel."
Mr Hawes was allowed to light the fire himself.
"That burnt off for a few days and gradually went to dust," he said. "Everything was gone and they backfilled it."
"It was quite a traumatic time but it's one of those experiences that in a way I'm glad I've seen."
It was not until 2007 that the family started up their flock again.
Mr Hawes says he takes great pride in the health and well-being of his new generation of lambs, but does not take it for granted.
"Hopefully it doesn't happen again," he said.
"But you can't predict the future and you never know what's round the corner."
Related Internet Links
The BBC is not responsible for the content of external sites.