Identical jabs in Oxfordshire cost different amounts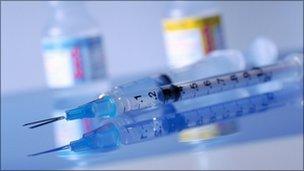 The British Medical Association is looking into changing its guidelines after a BBC investigation into the price of holiday vaccinations.
A study found that costs varied among Oxfordshire surgeries.
In some cases the difference was more than £100 for identical jabs. The chairman of the BMA's professional fees committee is asking for more clarity.
Dr John Canning said: "It's certainly something that I seriously think is a reasonable thing to do."
Protection against hepatitis B - which takes the form of three jabs - costs from £45 at a surgery in North Oxfordshire to £240 at a clinic in the west of the county.
Similarly vaccines for yellow fever and rabies vary according to location.
Dr Canning said the discrepancies were brought about by the different manner in which surgeries price their services.
Some do not include staff costs and fit the procedures between normal duties, while certain surgeries carry out more vaccinations and pay their nurses for the extra time.
The cost of vaccines can also differ depending on whether practices buy their medicines in bulk or not.
Dr Paul Roblin, chief executive of the Oxfordshire Local Medical Committee, said there was no obligation for surgeries to make patients aware of the price differences.
"I would hope that the trust that exists between a patient and a doctor would result in the patient getting a deal where the payments they were having to make were proportional to the workload."
He believes that making all vaccines free will save the government money in the long run.
"I've campaigned for a long time that the government, the Department of Health and the NHS should be paying for travel vaccines and we shouldn't have this situation where some vaccines are free on the NHS and some have to be purchased by the public.
"Unfortunately those requests have fallen on deaf ears."
A Department of Health spokesperson said: "Four travel vaccines are routinely given free on the NHS by GPs because they protect against communicable diseases which could be brought back into the country and spread.
"People should visit the National Travel Health Network and Centre website for advice on all matters relating to travel vaccines."
Currently polio, typhoid, cholera and single dose hepatitis A vaccines are free of charge to holiday-makers.
Related Internet Links
The BBC is not responsible for the content of external sites.