Dean of Christ Church offers support to New Zealand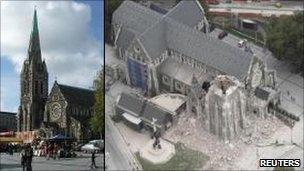 The Dean of Christ Church Cathedral in Oxford has offered support to its counterpart in New Zealand after the recent earthquake.
ChristChurch Cathedral in Christchurch, New Zealand, was founded by members of the Oxford cathedral in the mid-19th Century.
A 6.3-magnitude quake hit the city on Tuesday, killing 75 people and devastating buildings.
The Very Reverend Christopher Lewis said if need be, money would be sent.
"If they need money we'll be sending money," he said. "We'll be doing anything that we can."
The cathedrals have maintained contact and regularly exchange choristers.
"We've kept up a really strong link both with the city, the cathedral and the university, so it's particularly horrifying to us because we know a lot of the people there," Mr Lewis said.
"Our hearts are going out to the people. We can pray and we can send messages."
New Zealander Chris Bruerton, who is from Christchurch, currently lives in Oxford and sings with the choir at Christ Church Cathedral.
He said: "The hardest thing is not being able to do anything.
"It's pretty tough because I just want to go back there and help out in some form."
Tuesday's earthquake was New Zealand's worst natural disaster since a 1931 quake in Hawke's Bay on the North Island killed 256 people.
Related Internet Links
The BBC is not responsible for the content of external sites.