Candle blamed for Didcot woman's death in flat fire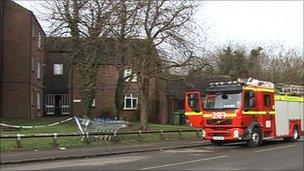 A flat fire that killed a woman is thought to have been caused by an unattended candle, Oxfordshire Fire and Rescue Service said.
Smoke and flames were spotted coming from the window of the first-floor property in Kibble Close, Didcot, just after 0200 GMT on Thursday.
Neighbours, who were led to safety by firefighters, tried to rescue the woman but were forced back by thick smoke.
The woman, who was aged in her 40s, died at the scene.
Oxfordshire Coroner's Office said the woman has not yet been named.
Station manager Mick Pilcher, of Oxfordshire Fire and Rescue Service, said: "The bedroom had a fully-developed fire in it which could be seen through the window of the first floor-flat and the smoke was very black.
"Neighbours heard the smoke alarm and were trying to help to get her out of the flat.
"They couldn't get in and were trying to raise the alarm."
Related Internet Links
The BBC is not responsible for the content of external sites.