Bicester schoolboy competes in World Maths Day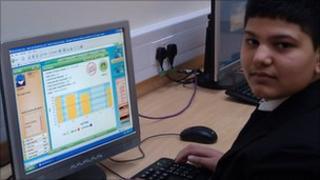 A 14-year-old boy from Bicester is playing children from across the world in an international maths competition.
Punit Sevak, from The Cooper School, got a place in the UK team for World Maths Day after taking part in a four nations challenge in November.
He now has to play 100 real-time mental arithmetic games online against other players during the 48-hour competition.
"I was on the leader board yesterday and I've just sneaked out but I'll try and get back in," he said.
The winner of the 5th annual event will receive a minted gold medal with smaller prizes for the top 10 international and UK players.
Jayne Warburton, from World Maths Day, said: "We believe that everybody can enjoy maths, the problem is that lost of people have had a bad experience.
"We want to turn that on it's head and say yes you can."