New £395,000 outdoor gym opened in Didcot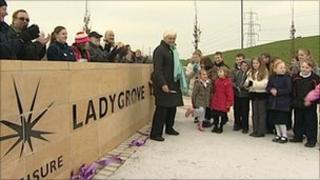 An outdoor gym to improve open space for people in the Didcot area has been opened.
The £395,000 Ladygrove Loop project is a 2.4-mile (4km) walking and cycle route running through the Ladygrove estate in the town.
South Oxfordshire District Council Leader Ann Ducker cut the ribbon on Wednesday morning.
She said: "The Ladygrove Loop is one of many improvements planned in the town that will put Didcot on the map."
The new facilities include two new outside exercise stations, distance interval markers, 10 new seating areas and a picnic area.
The natural parts of the walk have been enhanced with six acres of new wildflower meadows, and 1,800 new trees.