Mobile phone footage Oxford rapist wins sentence cut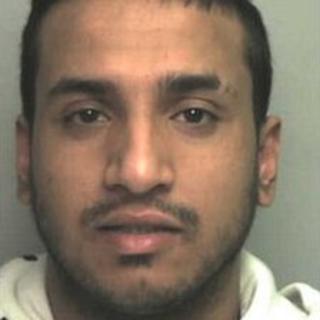 A man who raped an unconscious woman who only learned of the attack when she saw footage of it on a mobile phone has won a cut in his prison sentence.
Mohammed Shahjahan, 27, from Oxford, was jailed for eight-and-a-half years last September at Oxford Crown Court. Two other men were also jailed.
The woman had passed out after drinking three vodka and Red Bull cocktails and did not remember the 2009 assault.
Shahjahan's sentence was cut to seven years at the Court of Appeal.
Nicholas Jones, 26, of White Road, who made the film, was jailed for three-and-a-half years after admitting two sexual assault charges and voyeurism.
Feizal Ali, 26, of Howard Street, was jailed for three years after being convicted of sexual assault.
During the trial, the court heard the woman only discovered she had been raped and sexually assaulted two weeks after the attack, which happened in November 2009, when Jones showed her the footage.
Jurors were told the woman had been "incapable of consent".
The judge described Shahjahan, of Slaymaker Close, as "an arrogant young man who was heartless, shameless and had no consideration for the victim".
All three have been put on the sex offenders register for life.