Oxfordshire athlete goes for third transplant games title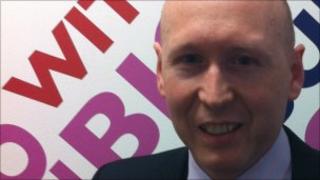 An Oxfordshire man is training to win his third title at the World Transplant Games having overcome leukaemia, a brain tumour and MRSA.
Grant Cawte, 37, from Middle Barton, will go to Gothenburg in June to represent England at Badminton.
It is a title he has won for the last two years after beating several serious illnesses.
He said: "It demonstrates that after a transplant you can have a full life again."
As a teenager Mr Cawte had ambitions to play the sport professionally but found it difficult to train.
"I was feeling very ill and very tired and so I went into A&E and said something's not right with me," he said.
Mr Cawte was diagnosed with leukaemia. The haemoglobin levels in his blood were so low doctors thought he was days away from a heart attack.
Coma
The treatment he received caused an allergic reaction and he developed a blood clot on the brain.
After a serious seizure he went into a coma and has hazy memories of those difficult 10 days.
"One time a doctor was clapping her hands over me saying, 'Grant wake up, wake up' and I was thinking, 'I want to wake up' and then she said, 'no he's not coming out of this'."
While in a coma doctors discovered Mr Cawte had a brain tumour. But, it is not malignant and has not been removed.
"They can't take it out because it is so close to the eye socket that one wrong move and I could lose the sight in my eye," he said.
After Mr Cawte came out of his coma he was preparing to have a bone marrow transplant for his leukaemia but, with his immune system suppressed, he caught MRSA in hospital.
"If ever there was a point that I thought, 'I've just had enough' it was having 20-odd days of no sleep, raging temperatures and nurses and doctors not being able to do a great deal for me."
Scar tissue
Eventually his immune system recovered and fought off the infection enabling to have the transplant, but even that did not go entirely to plan.
"I went through a period after my transplant of having a rejection that put scar tissue around all my joints and my mobility was very difficult for a number of years," Mr Cawte said.
Thanks to further specialist treatment Mr Cawte was eventually able to walk and take up his childhood sport again.
He is now in remission and he lives with his wife and two young children in north Oxfordshire.
Mr Cawte hopes competing in the World Transplant Games will raise awareness of the need for new donors.
"On the UK Transplant website there's 10,000 people, they're saying, that need a transplant and unfortunately approximately three a day do die because there aren't enough transplant donors out there," Mr Cawte said.