BG Records set up for Oxford's urban musicians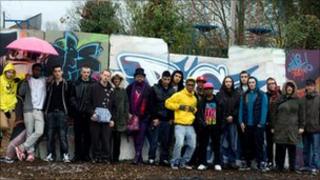 A new record label has been set up in Oxford to support young up and coming urban artists.
Zahra Tehrani saw the potential for the project whilst working at the Ark T Centre in Cowley.
She felt much of the local talent was being overshadowed by Oxford's well-established indie music scene.
"Locally I don't think the urban scene is helped out as much as it could be," she said.
New talent
Zahra, 22, is the former drummer of acclaimed Oxford band Baby Gravy.
She formed BG Records with the aim of providing gig opportunities, recording facilities and music workshops to new talent.
"It's just about giving them a chance because there's not many places for under 18s to play in Oxford," Zahra said.
"Bands do have facilities to rehearse and places to record whereas urban acts don't have anything," she added.
Several urban acts have had gigging experience and music released thanks to the new project.
UneeK, aka Sarah Greenaway, 20, had her Mixtape awarded Demo of the Month in local music magazine Nightshift.
She said: "It's helped me massively in the sense of releasing my Mixtape, recording, producing and playing gigs as well as doing wonders for my confidence.
"BG is definitely more of a movement and a community than a record label."
Launch gig
Silas Gray, 18, performs as Silecta. He told the BBC that the community had helped develop him as an artist.
"More significantly it's broadened my musical horizons and interests and helped me understand the importance of 'team' and 'support' in music creation and celebration," he said.
A launch gig is set to take place at the O2 Academy in Oxford on Saturday 2 April 2011.
The show will feature 15 live acts, as well as examples of street art and graffiti.