Girl wins Oxfordshire World Pooh Sticks Championships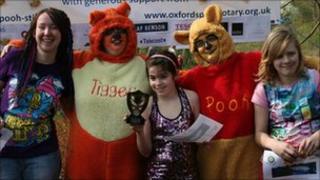 A nine-year-old girl from Oxfordshire has won the individual prize in the World Pooh Sticks Championships.
Saffron Sollitt, from Wallingford, beat 500 other competitors from around the globe at Days Lock in Little Wittenham, near Abingdon, on the River Thames.
The game was written about by Winnie the Pooh author A A Milne and involves racing sticks under a bridge.
Team Kelly took the top spot in the group competition. Last year's event was cancelled due to high water levels.
The competition attracted entries from New Zealand, Germany and the Netherlands.
'Smiles on faces'
Individual winner Saffron said: "It was my first time so I was amazed to win.
"I used a few tricks like putting my stick in pointing upwards and picking the part of the river with the fastest flowing current."
The championships started in 1983 when the lock keeper noticed walkers recreating Pooh's pastime on the River Thames.
He thought it would be an excellent way of raising money for his favourite charity, the Royal National Lifeboat Institution (RNLI).
The event went from strength to strength until the lock keeper's retirement when it was passed to the Rotary Clubs of Oxford Spires and Sinodun.
Money raised this year, expected to be excess of £1,500, will go to the RNLI, Little Wittenham Church and other charities supported by the Rotary club.
Lesley Hunt, from Rotary Club of Oxford Spires, said: "It was such a shame last year was cancelled but this year was tremendous.
"The weather was beautiful and everyone left with smiles on their faces."