Artist in Motor Neurone Disease project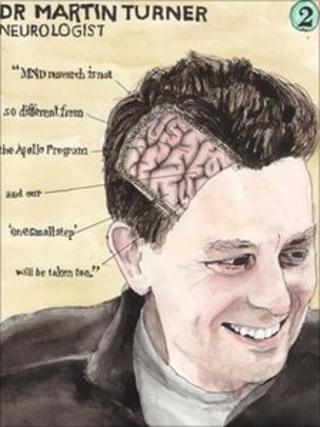 An Oxford neurologist is backing a Bristol artist as part of a project to raise awareness about Motor Neurone Disease (MND).
Patrick Joyce, who has the disease, is attempting to paint 100 portraits before he loses the ability to do so.
His subjects have included fundraisers, volunteers, researchers and most recently Professor Stephen Hawking.
Dr Martin Turner is a consultant neurologist at Oxford University and is treating Mr Joyce.
He said: "I am part of a growing group of international neuroscientists who firmly believe we will make a difference by chipping away at MND with our individual research contributions.
"Patrick is right in the middle, taking back the control that MND has stolen in other ways, through his art and positive attitude."
'Horrible statistics'
Dr Turner has been studying a large group of people, including Mr Joyce, looking for changes in people's brains that could improve diagnosis of the disease and drug trial monitoring.
Brain scan images and research findings will be exhibited alongside Mr Joyce's work.
Mr Joyce said: "I started painting the portraits in the hope that I could show that behind the horrible statistics there are people fighting to stop this disease, people giving up their lives to care for the sufferers and people living with it, with dignity, fortitude and a sense of humour."
MND is the name given to a group of related diseases affecting the nerve cells in the brain and spinal cord.
As these gradually die, the muscles stop working.
The life expectancy for most people with MND is two to five years.
Mr Joyce has painted 18 portraits so far. The exhibition takes place at Oxford University Museum of Natural History from 31 March to 6 May.