Arts Council England cuts funds for Oxfordshire groups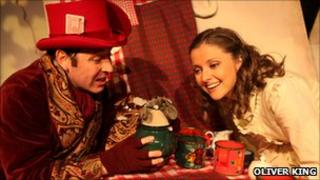 Some organisations in Oxfordshire will lose their Arts Council funding in the wake of public sector cuts.
Artpoint, the Ayebia Clarke Literary Agency and the Oxfordshire Theatre Company were refused continued funds.
But Modern Art Oxford, the Pegasus Theatre, Oxford Contemporary Music, the Oxford Playhouse and Modern Poetry In Translation will receive support.
Caroline Collier, chair of the Arts Council South East said that the council had "backed excellence".
She said: "We are convinced that these organisations will advance our goals and priorities in exciting and effective ways.
"Unfortunately, we were not able to fund a number of good applications due to budget constraints."
'Devastated'
Louise Wiggins, administrative director of the Oxfordshire Theatre Company, said its touring future was up in the air.
"We are devastated by this decision," she told the BBC.
"The 100% cut from the Arts Council represents a cut of nearly £200,000."
Euton Daley, artistic director at the Pegasus Theatre, said he understood the reasons behind the new system.
"Rather than everybody struggling for a meagre amount in order to survive, [this] actually funds organisations properly so they can actually get on and do the work, so the spirit of that we wholeheartedly endorse," he said.
The organisations that were unsuccessful in their applications will have 12 months of remaining funding.
Arts Council England had its budget cut by £100m in October's Spending Review.