Tractor given security devices to tackle farm crime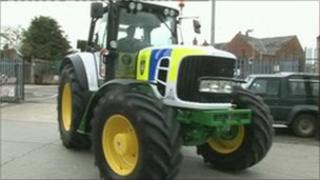 A tractor has been kitted out with specialist security devices to help fight rural crime across farms in the Thames Valley.
It was unveiled at Thame Farmers' Market in Oxfordshire, to warn farmers of the dangers of not securing their vehicles.
The tractor has blue flashing lights and features anti-theft functions such as keycodes and a tracking device.
It will feature at several rural events across the Thames Valley.
Last year there were about 2,000 farm vehicle thefts reported to police across England and Wales.
The National Farmers Union (NFU) said tractor theft had increased partly because of the recession and partly because most farm vehicles were not as secure as modern cars.
Ch Insp Geoff Robinson said: "Some could say it's a bit of a gimmick but it's an opportunity for us to have a focal point so that we can engage with the rural community who will come to us.
"If we had just had an officer we wouldn't have got that kind of engagement.
A similar initiative has been tested in Lincolnshire.