RAF Brize Norton repatriations route proposed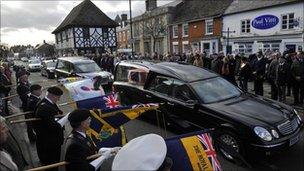 A planned route for UK military repatriations through Oxfordshire will not go through Carterton town centre.
The proposal released outlines the plan for dealing with personnel killed in action when they are flown into RAF Brize Norton from September.
The planned route will travel along the edge of Carterton, before driving on to Oxford on the A40.
The RAF is constructing a repatriation centre at Brize Norton following plans to close RAF Lyneham in Wiltshire.
Norton Way will be the focus for people to pay their respects, with temporary road closures made available.
Previous corteges from RAF Lyneham went through Wootton Bassett on their way to the John Radcliffe Hospital in Oxford.
The Mayor of Carterton, Norman MacCrae, said: "We are very proud and privileged to follow Wooton Bassett.
"Whatever the final route is after the consultation, the town will have the matter treated with the dignity, the respect and the solemnity the occasion needs."
A spokesperson for Oxfordshire County Council said: "Whilst Brize Norton had this role on a previous occasion, these events have since taken on a more public focus since the repatriations were moved to RAF Lyneham in Wiltshire.
"The police and the county council have led a group of organisations in seeking to agree a proposal for a safe route for the cortege - taking into account for the fact that there is likely to be a continuation of public gatherings."
The proposal will be discussed at upcoming local parish and town council meetings before responses to the consultation are considered at the end of May.
Related Internet Links
The BBC is not responsible for the content of external sites.